Halloween has been my favorite day of the year for as long as I can remember. As someone blessed with a Halloween birthday, I enjoyed double the excitement from day one. Halloween means Jack-o- lanterns gleaming in the dark, leaves crunching under the feet of Trick-or-Treater's, and the one night of the year you HOPE you get scared! I personally put out my decorations in September, but of course I don't expect everyone to be that ridiculous. Your jack o lantern will definitely not make it to October 31st…..I speak from experience. I think one of my favorite things about Halloween is how all encompassing it is to the imagination. We celebrate the cool, creepy, different, spooky, and even weird. Witches and ghosts, vampires and Frankenstein, there's no limit to what you can be on Halloween night. Regardless of the costumes, at the end of the day, what are all those little witches and goblins coming to your door in hopes of…..CANDY!?
Unfortunately, like all facts of life, reality can be tough for some children. Some don't live in neighborhoods safe to Trick-or-Treat in, or don't have an adult to walk with them from home to home. With all the joy of treats that Halloween brings, many children cannot experience this childhood rite of passage because of food allergies. From nuts, to dairy, to eggs and more, candy is a minefield of hidden allergens to a child suffering from allergies. Luckily, we live in a time when inclusivity is for everyone, and that means all kids should enjoy Trick-or-Treating on Halloween night! Thanks to The Teal Pumpkin Project®, we get closer and closer every October.
For whatever the reason, and there are many theories, food allergies are on the rise. An estimated 32 million Americans live with food allergies. Food allergies require a lifelong adjustment for these individuals, including but not limited to: bringing their own food everywhere, reading labels on everything, and even avoiding touching these food allergens. While this clearly impacts daily life, Halloween night should be a night all children can forget about their peanut, gluten, or dairy allergies, and just be kids. FARE, (Food Allergy Research and Education) began the Teal Pumpkin Project® to denote a way for children suffering from food allergies and their parents to know there are non-food goodies and treats for them at a home with a teal pumpkin at the door. You can buy these pumpkins at local craft stores, or even make your own! Non-food items such as dollar store goodies (pencils, stickers, plastic vampire fangs, necklaces and spider rings, etc.) are so easy to purchase and have on hand! Even Trick-or-Treater's without food allergies can join in on the non-candy fun! (Check out this comprehensive list courtesy of the FARE website if you're interested to find more!) All children deserve the excitement of putting their hand in a bowl and retrieving a prize, and whether that is candy or a non-food surprise, the thrill is the same.
FARE has some wonderful links (hyperlinks listed below) to help you take part in The Teal Pumpkin Project®, including putting your house on a national map to help parents and Trick-or-Treater's find your home! Even if you don't get a single child with a food allergy during your Halloween night, spreading awareness of the importance of inclusivity during this exciting holiday is just as rewarding. For many children, the memories of Halloween Trick-or-Treating will stay with them for the rest of their lives. Be the home that gave out the silly dollar store goodies they will never forget. Yes, they might forget the spider rings or stickers, but they will never forget the houses that made them feel included on Halloween.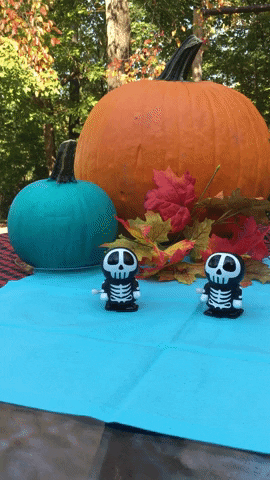 Happy Halloween to all, and to all, a haunting night!
Below are the links to the FARE website, to find out more, print out your own Non-Food Goodies Here sign, and add your home to the Teal Pumpkin Project® map to help the little ghosts and goblins find your home!
Get Started with The Teal Pumpkin Project
Teal Pumpkin Project Trick or Treat Home Map
Ideas for Non-Food Halloween Treats
*FARE is the world's largest non-profit organization dedicated to increasing the awareness, research, and inclusivity surrounding food allergies. All media provided in this article belongs to FARE, including graphics and links.